RPZ valves also known as type BA Devices are mechanical devices that provide backflow protection against fluid category 4 which represents significant health risks.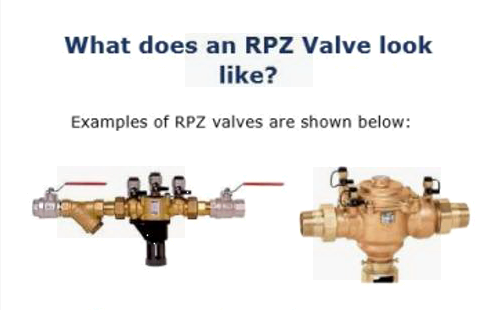 Installation - 'Approved Installation Method AIM-08-01 Issue 2

'

provided by WRAS sets out the requirements for installation, on-site testing and maintenance.

Annual Testing – ESW

are required to monitor all RPZ valve installations in our water supply area. All valves must be tested and certificated on an annual basis.

Copies of completed certificates must be submitted to waterregssouth@eswater.co.uk

Reporting an RPZ valve test failure
If the RPZ valve fails the compliance test but is repaired and satisfactorily retested immediately then the certificate should be forwarded to waterregssouth@eswater.co.uk as usual.
In the event of a test failure where an RPZ Valve cannot be repaired and satisfactorily retested immediately the tester shall notify the water undertaker within 24 hours to agree a course of action.
Contact Details as below:
Monday to Friday 8am to 4pm - 01268 664004 (Water Regulations Dept) -
Email: waterregssouth@eswater.co.uk
Friday 4pm - Monday 8am and Bank Holidays - 0345 717 1100 (Northumbrian Water Contact Centre). Details will be taken and advice given as to what action is required and if necessary you will be contacted by a Water Regulations Officer to advise further.